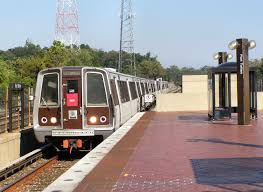 A Modest Proposal for 'Dedicated Metro Funding'
Last week, the Washington Post editorial board took Gov. Larry Hogan to task for refusing to provide the D.C. Metrorail system with what is euphemistically called "dedicated funding"—and more accurately called a permanent state subsidy. According to WaPo, Hogan's refusal is tantamount to telling the transit system, "Drop dead."
Of course, Hogan's approval wouldn't be needed if policymakers wanted to tap the obviously best source for "dedicated Metro funding": the people who ride it. By simply raising fares, the system could raise the money it badly wants. If anyone should value the service that Metro provides, it would be its ridership.
And it's not like those riders, as a group, couldn't afford a fare increase; after all, Metrorail serves one of the wealthiest localities in the country (and the world), shuttling people from jazzy inner suburbs like Alexandria, Bethesda, Falls Church, and Silver Spring (and coming soon: the Dulles corridor) to well-paying jobs in downtown D.C. It's difficult to see why those commuters would need public assistance.
However, if WaPo wants such a subsidy, I have an idea for how to finance it: a newspaper tax. A modest tax of $1 per reader per day would generate around $200 million a year from Post readers alone. And since WaPo is the dominant paper in Metrorail's upscale service area, such a tax would be both progressive and would target the rail system's beneficiaries.
A progressive, well-targeted tax to aid the troubled rail system—the WaPo should love the idea. I eagerly await the next editorial where the paper advocates this modest proposal.